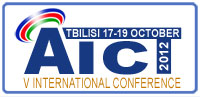 The 6th International Conference on Application of Information and Communication Technologies
AICT2012
Georgia, Tbilisi, 17-19 October 2012
http://www.aict.info/2012
CONFERENCE PROGRAM (PDF - 510kB)
The AICT2012 International Conference events will be held at 4 different location: Sheraton Metechi Palace Hotel (Opening Ceremony), Tbilisi State University, International Black Sea University and Georgian Technical University. See more hotels at Hotel Accomodation.
The deadline for paper submission has expired

AICT2012 Proceedings and Indexing:
Accepted papers include Engineering Index (EI) and EI Compendex and IEEE Xplore TM IEEE Catalog Number CFP1256H-ART, ISBN 978-1-4673-1740-5

Selected papers will be published as a special issue of the Academic Publisher, JOURNAL OF NETWORKS (JNW) [ www.academypublisher.com/jnw/ ]

(The journal of Networks is a professional, peer-reviewed, publishing high-quality scientific articles in network fields. The journal is indexed in major databases including EBSCO, INSPEC, and EI Compendex.)
| | | | |
| --- | --- | --- | --- |
| | | | |
| Academic Publisher, Journal of Networks (JNW) | IEEE Xplore Digital Library | International Journal of Qafqaz University | AICT2009 Conference Electronical Preceeding (CD) |
Our Sponsors:
Technical Sponsor:
Sponsors:
About AICT2012 Conference: On behalf of the Steering Committee, we welcome you to the The 6th International Conference on Application of Information and Communication Technologies (AICT2012) will be held in Tbilisi, Georgia on the 17, 18 and 19th of October 2012. The AICT2012 Conference will build on the success of the previous conferences, which were held in Baku and Tashkent
AICT2012 is co-organized by Ministry of Education and Science of Georgia, International Black Sea University, Qafqaz University, TSU - Ivane Javakhishvili Tbilisi State University, Georgian Technical University, with support of IEEE Azerbaijan Joint Chapter and technically co-sponsored by Institute of Electrical and Electrical Engineering (IEEE). AICT2012 will offer oral, poster sessions, keynote speeches, tutorials and, professional meetings. Submitted papers are expected to cover state-of-the-art technologies, theoretical concepts, standards, products implementation, ongoing research projects as well as application issues of the ICT. In the previous AICT was joined by hundreds of participants from several countries including Azerbaijan, Uzbekistan, Sweden, Canada, China, Finland, Turkey, Russia, Georgia, Romania, Iran, ...
AICT2012 Conference Scope: AICT2012 topics include, but are not limited to, the following research and development areas/fields (more than 80 topics for more information visit Sessions / Topics):
Information Science and Application
Communication, network and hardware
ICT in Business Administration, Finance and Economy
ICT in Governance and Government Policy Making
ICT in Medicine and Health Care
ICT in Education, Research and Science
ICT in Humanities and Social Sciences
AICT2012 Conference Purpose: The AICT2011 International Conference is a forum to bring together business people, researchers, scientists, software architects, and industry professionals to discuss innovative ideas and diverse topics on next generation of information technologies and services. Using this forum, researchers and practitioners can exchange issues, challenges, new business models and structures, and new technologies and solutions. The AICT2012 aims at attracting both researchers from academic and industrial institutions and practitioners from industry. Researchers, practitioners and distinguished speakers are invited to submit a paper and/or to make proposals of original research speeches addressing business and technical issues, challenges, solutions, and technologies in building applications, complete solutions and ICT-based services. All papers/proposals will be peer-reviewed by the members of the international program committee.